Saving Oil in a Hurry
a 2005 report from the International Energy Agency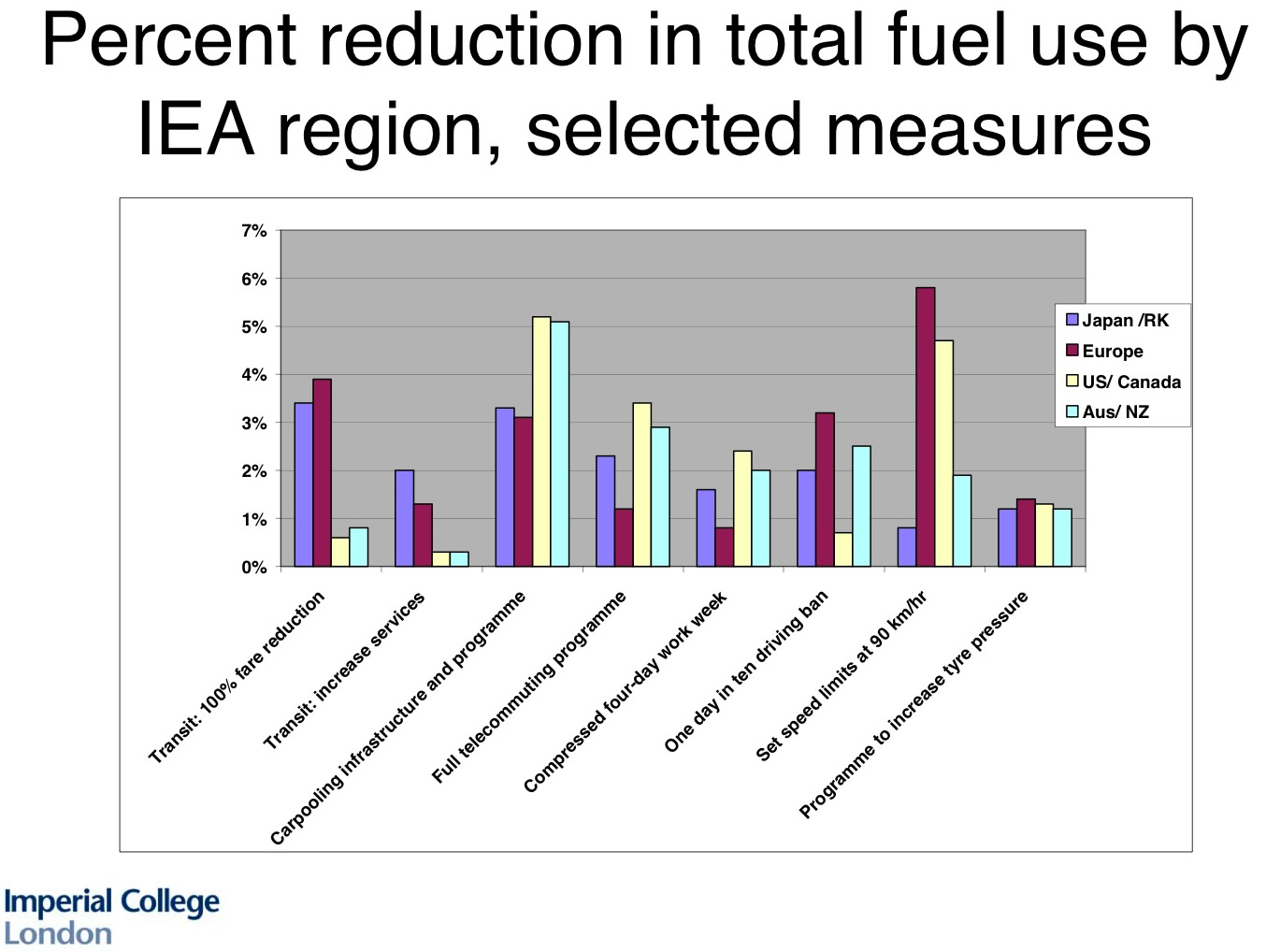 In 2005, the International Energy Agency held a forum to discuss "Saving Oil in a Hurry." While in the long run fossil fuel supplies are going to gradually decline, there are numerous scenarios where sudden sharp downward levels of availability could happen -- conflict in oil exporting countries, severe hurricanes in the Gulf of Mexico offshore drilling areas, desire by oil exporters to reduce exports since oil will be more valuable in the future, a US / Israeli attack on Iran followed by Iranian disruption of oil flows through the Persian / Arabian Gulf. There are also plausible possibilities that some oil fields could see much more rapid decline that some planners are hoping for, especially those oil fields that are being pumped out with large volumes of water (a technique that works for a while but risks collapse of the oil field).
The Saving Oil in a Hurry report suggested that in the United States and Canada, carpooling would have greater energy reductions in the US than free public transit, although no one approach is sufficient. In Western Europe, free transit would have the single biggest reduction in oil consumption. All approaches will be needed. The opportunity of using all of the seats in the existing traffic flow shows the potential for quick reductions of energy use -- an opportunity that is a social obstacle, not a technological problem.
Regardless of which geologists are ultimately proven correct about oil supplies, we need to prepare to live with much less energy consumption.
---
www.fcnp.com/511/story3.htm
The Peak Oil Crisis: Part 4, A Sudden Shortage
Tom Whipple May 19 - 25, 2005
A few weeks ago, the International Energy Agency (IEA) in Paris released a study called "Saving Oil in a Hurry" in which they examined what the oil importing countries could do should there be an interruption in supply. This 165-page document looks at previous oil shortages — the two in the 1970's and some recent ones in Europe — to develop recommendations as to what governments should do when there is more demand at the pumps than there is gasoline available.
They conclude that the overriding concern during a government intervention is to hurt the economy as little as possible. The study emphasizes that there are important differences between measures simply restricting travel, such as a Sunday driving ban, and those that assist or encourage motorists to cut fuel use such as car-pooling or the concept, unknown here in America, of "ecodriving" (light foot on gas).
The major cost associated with fuel storage is lost mobility and the reduced economic activity that results.
After much thought, the IEA came up with seven general approaches that would produce savings of energy (in a hurry):
• Increases in public transit usage.
• Increases in car-pooling
• Telecommuting (working from home)
• Changes in work schedules
• Driving bans and restrictions
• Speed limit reductions.
• "Ecodriving"
There can, of course, be endless details to these general approaches to saving transportation energy and the savings garnered by each of these approaches will depend on how they are implemented. There is a big difference between a car-pool publicity campaign and expansion of strictly enforced HOV to all lanes of all major arteries and the denial of parking to single occupant vehicles.
The publication of internationally agreed set of approaches to saving transportation energy at least gives us a basis for discussion on the day when the real shortage arrives.
---
www.energybulletin.net/stories/2005-03-24/workshop-managing-oil-demand-transport
International Energy Agency
European Conference of Ministers of Transport
WORKSHOP: MANAGING OIL DEMAND IN TRANSPORT
Paris, 7-8 March, 2005
The main objectives of this workshop will be to:
-Elevate the issue of transport oil demand management among IEA Member countries;
-Identify and review cost-effective actions for reducing transport oil demand both on the very short term and medium term (up to 10 years).
AGENDA
(IEA page includes links to most presentations)
Monday, 7 March
Saving Oil in a Hurry
Welcome: Claude Mandil, Executive Director, IEA; Jack Short, Secretary General, ECMT
Introduction, scope and objectives of the workshop – Lew Fulton, Administrator, Energy Technology Policy Office, IEA
Why Save Oil in a Hurry? – David Greene, Corporate Fellow, Oak Ridge National Laboratory, US
Session I: Saving Oil in a Hurry: an Overview of Demand Restraint
Chair: Lew Fulton
Setting the Stage: IEA's Oil Security and Demand Restraint Programme – Klaus Jacoby, Head of Emergency Planning and Preparations Division, IEA
IEA "Saving Oil in a Hurry" study – Robert Noland, Reader in Transport and Environmental Policy, Imperial College London
Perspectives on Demand Restraint
Appropriate Government Responses During a Supply Disruption– Jack Short, Secretary General ECMT
Haulage Industry Perspective – Jens Hügel, Head, Sustainable Development, International Road Transport Union
Oil Industry Perspective – John Mumford, Vice –President UK Region, BP Oil UK Ltd.
Session II: Country Experiences and "best practice" case studies
Chair: Klaus Jacoby
A Survey of IEA Country Emergency Plans – Jason Elliott, Administrator, Emergency Planning and Preparations, IEA
Dutch Programmes to Promote Vehicle In-use Efficiency – Martin Kroon, Senior Policy Advisor on Transport & Environment, Ministry of Environment, NetherlandsExperiences from the electricity sector:
Summary of IEA 2003 Workshop "How to save electricity in a hurry" –Alan Meier, Principal Administrator, Energy Efficiency & Environment Division, IEA (+ selection of videos)
Lessons Learned from Saving Electricity in a Hurry - a New Zealand Perspective – Heather Staley, Chief Executive, New Zealand Energy Efficiency and Conservation Authority
Session III: Open discussion of country needs and potential areas of co-operation, and proposed new analytical work in this area
Chair: Neil Hirst, Director, IEA Office of Technology and R&D
• Role of governments and recommended strategies for saving oil in a hurry, areas of agreement
• Identification of opportunities for greater co-operation within and between countries in policy development and implementation
• Gaps in information, data, analysis – IEA/ECMT roles in filling these?
Bridging to Day 2 – how do the issues overlap?
Why Manage Oil Demand? – David Greene, Corporate Fellow, Oak Ridge National Laboratory, US
Tuesday, 8 March
Managing Oil Demand: the Next Ten Years
Welcome, day two
World Energy Outlook – Focus on Transport – Fatih Birol, Chief Economist, Head, Economic Analysis Division, IEA
Infrastructure charges and fuel taxes for transport: getting the prices right – Jos Dings, Director, Transport & Environment (T&E)
Session I: Recent assessments of policies and strategies to reduce growth in transportation oil demand
Chair: David Greene
Key Messages from the WBCSD/SMP Mobility 2030 Study – Luc Bastard, External and Government Relations Department, Renault
Oil-saving Opportunities in Freight Transport – Alan McKinnon, Director/Professor, Logistics Research Centre, Heriot-Watt University
The Role of Travel Demand Management Measures – Thomas Gueret, Energy Efficiency Analyst, LTO/IEA
ECMT/IEA report on in-use fuel economy improvements – Lew Fulton, IEA
Session II: Short presentations of selected policy experiences and "best practice" case studies by government representatives, followed by discussion
Chair: Robert Noland
EU transport oil-saving-related activities – Franz Soldner, Principal Scientific Officer, DG-TREN
France's Transport CO2 Reduction Plan (with implications for oil savings) – Pascal Douard, Haut Fonctionnaire Dévelopment Durable, Ministère de l'Équipement et des Transports
UK Company Car Tax Scheme – Nick Barter, Economic Advisor, Department for Transport, UK
China's Vehicle Policies – He Dongquan, Program Officer, Transportation, The Energy Foundation
Brazilian Perspective on Biofuels - Ernani Filgueiras de Carvalho, Manager - Refining, Transportation and Petrochemical Division, Instituto Brasileiro de Petróleo e Gás
Session III: Open discussion of country needs and potential areas of increased co-operation
Chair: Lew Fulton
• Role of governments and recommended strategies for medium term oil demand management: areas of agreement
• Identification of opportunities for greater co-operation within and between countries in policy development and implementation
• Gaps in information, data, analysis – IEA/ECMT role in filling these?
• Need for a formal initiative? Concrete proposals for activities either under an initiative or otherwise
• Identification of potential messages to IEA Ministers
Editorial Notes
Several papers from the IEA Conference on "Managing Oil Demand in Transport" are available online, via the:
- Workshop Presentations Page
- Workshop Details Page
www.energybulletin.net/stories/2005-03-24/workshop-managing-oil-demand-transport