The Limits to Smart Growth
Smart Growth as a term was first used by then Governor Glendening in Maryland. His "Smart Growth" plan had a loophole for "connector roads" between designated growth areas - in other words, the Intercounty Connector (part of the original Outer Beltway). It also subsidized developers inside the DC and Baltimore Beltways, just in time to give handouts to the Washington Redskins and Baltimore Ravens.
I've never seen a "smart growth" group mention the limits to growth on a finite planet. Peak Oil is not in their vocabulary. Relocalizing food production is an alien concept to most of them. Nor do any of them criticize Democrats politicians for loving just about as many highways as Republicans.
Smart Growth subsidizes developers who build in urban and inner suburban areas where people vote Democratic.
Now that oil prices are higher traffic levels no longer are increasing, which takes the "smart growth" assumptions into a level of mathematical irrelevance. Figuring out how we can all live better as the concentrated resources decline is the task in front of us, not how to have a nicer ride on the Titanic.
Smart Growth versus Sustainability
"You will change nothing until you change the way that money works"
-- M. King Hubbert, author of the mathematical model to predict Peak Oil
Sustainability refers to practices that can be continued generation after generation.  This word has been co-opted by polluters trying to confuse the public to ensure continued unsustainable extraction, the basis of the modern industrial economic paradigm.
Sustainability does not mean nice words or good intentions -- it refers to practices that your great-great-great-great grandchildren will still be able to do once the oil is gone.   By that standard, virtually no one in North America is living "sustainably," with the exception of Amish and some Native American / First Nations communities.
Most of the best practices marketed as "sustainable" are merely efficiency.  A 100 mile per gallon / 42 kilometers per liter car is an efficient use of non-renewable petroleum, but it is not sustainable.  Most forms of renewable energy are a means of using non-renewable resources (oil for plastics and transport, minerals) to capture sunlight, wind, etc.  It is hard to envision a successful transition from our current industrial paradigm to true sustainability, but honesty is critical for designing any successful outcomes.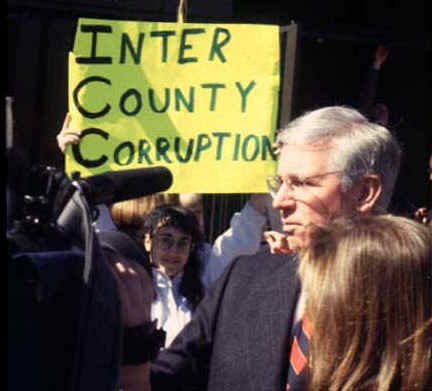 "Smart Growth," sometimes called "Sustainable Growth," is another mantra of pseudo-environmentalism.   This oxymoronic slogan ignores the realities of overpopulation and overconsumption.
The first politician to use the term "Smart Growth" was Maryland Governor Parris Glendening (1994-2002), a Democrat.   In 1996, he embraced the term at the height of his campaign to promote construction of the Inter County Connector (ICC) superhighway, part of the long planned Outer Beltway around Washington.   This policy claimed to refocus public subsidies away from sprawling outer suburbs to reinvest in urban areas, but it also allowed connector roads between designated growth areas - a loophole large enough for the entire Outer Beltway. "Smart Growth" was embraced by the foundation funded environmental groups but scorned by grassroots who saw it as a distraction from the Governor's superhighway plans.  This "greenwash" (the false claim of environmentalism) did not succeed in approving the project, since in 1998 the FHWA quietly concluded that the ICC would not withstand a legal challenge, and the approval process stalled.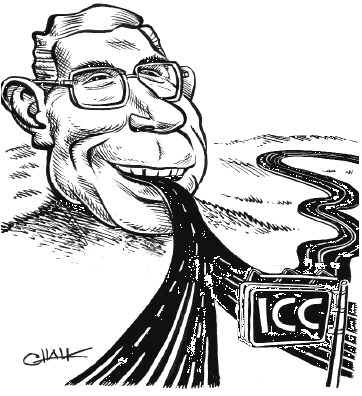 The "Smart Growth" is an example of how highway funds are used for social engineering.  The Glendening plan directed public subsidies toward the most urban parts of the State which are the most Democratic constituencies.  In contrast, outer suburb edge cities and rural areas are more Republican and use more gasoline per capita than Democratic.   Per capita oil consumption is a variable that shows whether a community is more likely to vote for the D's or for the R's.
In 2006, former Governor Glendening is now president of the Smart Growth Leadership Institute and a board member of Smart Growth America , a national coalition of organizations advocating alternatives to urban sprawl.
The subsequent Republican governor of Maryland revived the ICC, and the Bush administration made it a national priority (since it would connect military and intelligence contractors throughout the Washington area with key federal facilities, especially Fort Meade, home to the National Security Agency).  On May 29, 2006, the FHWA issued a "Record of Decision" for the ICC. Two environmental lawsuits were unsuccessful and most of the ICC opened for traffic in 2011.
New land use and economic paradigms needed
Most who promote "Smart Growth" have good intentions.  But this paradigm is an inadequate examination, since it only looks at personal transportation issues and ignores many of the other ecological impacts of cities.  Whether people live in apartment buildings served by public transit or dispersed edge cities, they use the same amount of energy to grow and transport the food they eat.  Urban areas have an ecological "footprint" that is many times larger than the size of the metropolitan region to extract the raw materials needed to keep the City fed, lit, heated and economically vibrant.  
"Smart Growth" won't do much to keep metropolitan areas fed after the peak of petroleum is past.  It might keep some farmland near cities from being paved - but urban agriculture will be needed to address food shortages in the future -- which is in contradiction to "Smart Growth's" insistence on greater density in cities.  It's hard to have community gardens when cities get too dense, although rooftop gardens are a practical way to supplement urban diets.
A new form of urban planning is needed to integrate transportation and land use planning with ecological footprint analyses.   Most ecological efforts to reduce car use and create more livable cities have stressed density as a solution to the transportation crisis, but overbuilt neighborhoods still require lots of delivery trucks bringing in food from distant farms.  A genuine solution would balance neighborhood density, intelligent urban design, converting lawns and parking lots to gardens and other efforts to make cities become more locally oriented in their consumption.
Steady state economics are a prerequisite for any sensible strategy to achieve a harmonious balance with the natural world to plan beyond the era of cheap oil..  M. King Hubbert pointed out that the solutions required abandoning the economic paradigm of growth and shifting toward steady -state economics.
One analogy for a steady state economy is an old growth forest ecosystem.  A definition of a mature forest is a system where growth and decay are in balance.  The total tonnage of biomass may remain consistent in a given area, but life continues to be dynamic for individual species.   A forest in balance is still a dynamic place for the mouse being eaten by an owl, or for a sapling feeding on the soil created by trees that fell over decades ago.
Smart Growth cannot solve exponential growth, overshoot, Peak Oil and other resource depletions.   Smart Growth is riding First Class on the Titanic, ecological destruction with good taste.
In nature, endless growth is the ideology of the cancer cell.   A truly sustainable society would mimc natural processes, since we live on a finite planet and must change our politics, economics and psychology to adjust to this reality.
Maryland's "Smart Growth" law
Smart Growth is a term first used in 1996 by the Governor of Maryland, Parris Glendening. It promotes accelerating urbanization in urban areas and inner suburbs that generally vote Democratic as opposed to outer suburbs and rural areas that generally vote Republican. Glendening's "Smart Growth" law directed State subsidies and infrastructure spending to designated growth areas, which included incorporated cities and the area inside the Capitol and Baltimore Beltways.
At the time, Glendening was having difficulty getting his prized Intercounty Connector superhighway approved (part of the original Washington Outer Beltway plan). "Smart Growth" permitted "connector roads" between designated growth areas, so the ICC, which connected the cities of Gaithersburg and Laurel, was allowed under this law. New football stadiums for the Washington Redskins and Baltimore Ravens also qualified for public subsidies even though the Redskins stadium moved that football team from a location directly on a Metrorail station to a farm in the suburbs where the nearest Metro was much further away.
GOV. GLENDENING'S SMART GROWTH LAW (key excerpt)
39 (3) THE BOARD OF PUBLIC WORKS MAY APPROVE A TRANSPORTATION
40 PROJECT UNDER PARAGRAPH (1)(II) OF THIS SUBSECTION IF THE TRANSPORTATION
41 PROJECT:
[note: The Board of Public Works consists of the Governor, the Treasurer and the Comptroller.]
1 (I) MAINTAINS THE EXISTING TRANSPORTATION SYSTEM,
2 PROVIDED IF THE DEPARTMENT OF TRANSPORTATION AND THE OFFICE OF
3 PLANNING DETERMINE THE PROJECT DOES NOT SERVE TO SIGNIFICANTLY
4 INCREASE HIGHWAY CAPACITY;
5 (II) SERVES TO CONNECT PRIORITY FUNDING AREAS,
The Intercounty Connector superhighway championed by Gov. Glendening connects "priority funding areas" (the cities of Gaithersburg and Laurel).
6 PROVIDED THAT IF:
7 1. THE DEPARTMENT OF TRANSPORTATION AND THE
8 OFFICE OF PLANNING DETERMINE THAT ADEQUATE ACCESS CONTROL OR OTHER
9 MEASURES ARE IN PLACE TO:
10 A. PREVENT DEVELOPMENT THAT IS INCONSISTENT WITH §
11 5-7A-01(1), (2), AND (3) OF THIS TITLE; AND
12 B. MAINTAIN THE VIABILITY OF THE PROJECT WHILE
13 CONCOMITANTLY CONSTRAINING DEVELOPMENT WHICH POTENTIALLY DETRACTS
14 FROM MAIN STREET BUSINESS AREAS; AND
15 2. THE DEPARTMENT OF TRANSPORTATION AND THE
16 OFFICE OF PLANNING HAVE FIRST DETERMINED WHETHER ALTERNATIVE
17 TRANSPORTATION MODES, SUCH AS MASS TRANSIT AND TRANSPORTATION
18 DEMAND MANAGEMENT, PROVIDE A REASONABLE ALTERNATIVE TO THE PROJECT
19 AND DETERMINED THAT NO REASONABLE ALTERNATIVE EXISTS;
in other words, if the highway is built in the outer suburbs and it doesn't have traffic lights or driveways it is acceptable.
20 (III) HAS THE SOLE PURPOSE OF PROVIDING CONTROL OF ACCESS
21 BY THE DEPARTMENT OF TRANSPORTATION ALONG AN EXISTING HIGHWAY
This loophole exempts the Route 29 "upgrade" from Howard/Montgomery border to MD Route 32, (an Outer Outer Beltway segment), and to the planned "upgrades" of Route 301 -- part of Eastern Bypass -- Route 5, Route 210, Route 50 on the Eastern Shore and several others.
22 CORRIDOR; OR
23 (IV) DUE TO ITS OPERATIONAL OR PHYSICAL CHARACTERISTICS,
24 MUST BE LOCATED AWAY FROM OTHER DEVELOPMENT.
my definitions:
Smart Growth:
1. An effort to cloak further sprawl development in a green mantle.
2. A Maryland campaign to target public dollars toward Democratic Party constituencies.
3. The mantra of Glendening's re-election campaign (in 1998).
4. Brain tumors induced listening to re-election campaign speeches disguised as public policy pronouncements.
5. Legislation enacted by the Maryland General Assembly in 1997 that contains a loophole big enough for an Outer Beltway -- it permits State funding of connector highways between designated growth areas and conversion of major roads into limited-access interstate highways.
6. Having a good seat on the Titanic.
Designated growth areas include all incorporated cities -- such as Rockville, Gaithersburg, Laurel, Greenbelt and Bowie -- and all areas inside the Baltimore and Capital Beltways, which means that the Inter County Connector, the 301 Limited Access Upgrade, the Waldorf Bypass, the Raven Haven football stadium and Jack Kent Crooke football stadium were all "Smart Growth." No discussion of the physical limits to endless growth on a round, finite planet were included in this legislation or the political campaigns to support it.